The Miss Greater Watertown Pageant is a Scholarship Program associated with the Miss Connecticut and Miss America Scholarship Program.

The Miss Westbury's Outstanding Teen program is an official fundraiser for the Miss Greater Watertown Scholarship program.
Learn More
Our Junior, Petite and Little Miss Greater Watertown program is a primary fundraiser of scholarship funds for our Miss Greater Watertown program.
Learn More

Program Overview
MISS: (MUST live in towns listed to the right)

Private Interview (10 min) - 25%




Lifestyle/Fitness (swimsuit) - 15%

Talent (1 1/2 min) - 35%

Evening Wear - 20%

On-Stage Question(s) - 5%



TEEN: (may live in ANY CT town-$125 entry)
Private Interview (6 min) - 35%

Lifestyle/Fitness (NO swimsuit) - 10%

Talent (2 min) - 35%

Evening Wear - 15%

On-Stage Question(s) - 5%



Our Local Pageant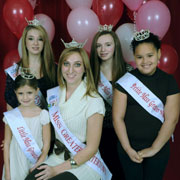 Each year, a young woman earns the title of Miss Greater Watertown as well as scholarship funds that can help further her education. She is also entitled to enter the Miss Connecticut pageant. Beyond providing scholarships for young women to continue their education, the Miss Connecticut Scholarship Program encourages the development of talent, physical fitness, poise, speaking skills and community service.
The talent phase of competition comprises 35% of a contestant's final score, while the personal interview is worth 25%. Each contestant is also required to present an issue of concern related to community service, such as breast cancer awareness, literacy, or support for arts education. As you can see, the scholarship money awarded through the Miss Greater Watertown Scholarship Program goes to talented, well-rounded individuals. Young women between the ages of 17 and 24 develop a talent and enter the pageant program
The practice and pageant rehearsals take place weekly for about two months before the show. During which time, other aspects of the competition are reviewed. Miss Greater Watertown contestants may work, go to school or live in the following towns: Watertown, Oakville, Thomaston, Washington Depot, Newtown, Southbury, Woodbury, Bethlehem, Middlebury, Morris, Lakeside and Roxbury.

A Miss Greater Watertown Says:
"I have learned more about my beliefs, my drive, my emotions, and my passions whle wearing this sparkling crown than I ever did when my head was crammed into a textbook"
Marissa Ranalli,Miss Greater Watertown 2011